BIG-Event
Since 2018, 58 apprentices and co-op students have worked on company premises to improve biological diversity and the design of outdoor spaces in the IG Nord. The "Blooming Industrial Areas" project came to a conclusion on September 25, 2020 with the BIG-Event.
The event started with excursions by bus and bike to the four participating companies. There, the apprentices presented their projects.
The event continued with around 80 guests in the Freiburg Exhibition Center with regards from Alexander Bonde, Secretary General of the German Federal Environment Foundation and Richard Tuth from the badenova Innovation Fund for Climate and Water Protection.
This was followed by a presentation of the project led by organizer Hans-Jörg Schwander and the awarding of the apprentice-teams by Synthia Diele from the IHK Freiburg as a representative of the jury. The prizes were presented by Bernd Rigl, member of the board of directors of Sparkasse Freiburg, who funded the prizes for the competition. First place went to the TDK-Micronas team, followed by a tie for second place for the apprentices from badenova and ASF and third place for the FWTM. The jury praised the teams for their accomplishments and was impressed with the commitment of the apprentices to the project.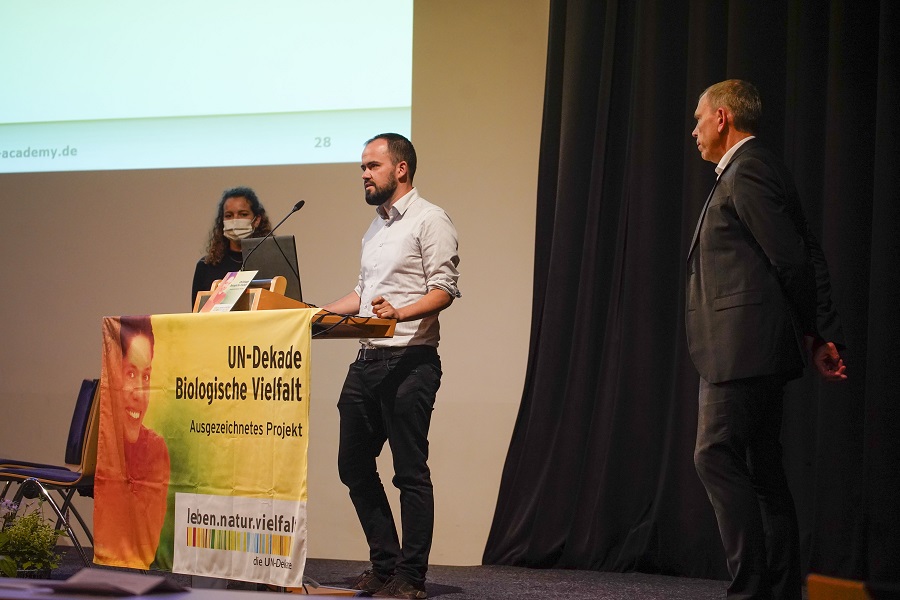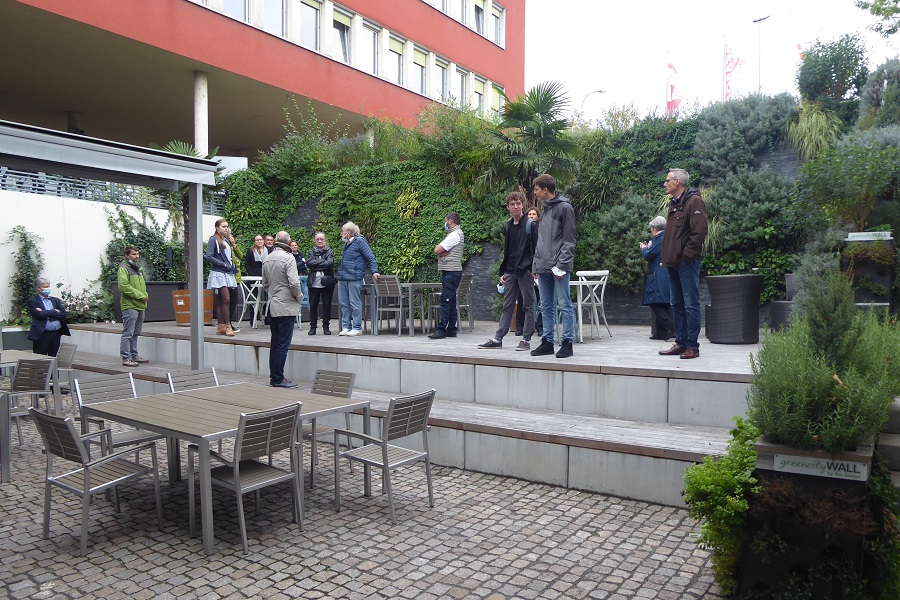 The team of the Innovation Academy e.V. was also recognized by the Secretary General of the DBU, Alexander Bonde, as an official project of the UN-Decade of "Biological Diversity". The jury emphasizes: "The project has an innovative and promising approach to anchoring biodiversity in the attitudes of companies."
The title "Excellent Project for the UN Decade of Biological Diversity" is awarded for a period of two years. The experts of the jury first assess whether the project follows the National Strategy on Biodiversity. The evaluation is continued using a point system according to the following criteria:
Contribution to conservation
Multiplier effect
Cooperation
Innovation
Durability
Relation to focal topic
During the screening of the project film "Blooming Industrial Areas", guests could sit back and learn more about the project.
Finally, the 10 most expressive photos of the photo contest "Green Instead of Gray" were awarded by the photographer Albert Josef Schmidt. Not only "beautiful" photos of plants and animals were taken into consideration, but also photos of "gray zones". The 10 selected photos were rewarded with insect-friendly flowering perennials, the first 3 places also received a cash prize.
As the last part of the project's closing event "Big Event", a lively panel discussion took place regarding the topic "Transformation from an Industrial Area to a Green Industry Park". The discussions were held by Hanna Böhme (FWTM), Roland Jerusalem (Head of department of urban planning, City ofFreiburg), Dr. Gerhard Bronner (LNV Baden-Württemberg e.V.), Simone Thomas (Women's representative, City of Freiburg), Hans-Jörg Schwander (Innovation Academy e.V.). Sebastian Bargon (broadcast journalist) was the moderator.